At the Midwest Sinus Center, our head and neck surgeons further subspecialize in facial plastic and reconstructive surgery, and are board-certified in the area of facial plastic surgery through the American Board of Otolaryngology, which requires extensive training, surgical experience and successful completion of a board exam in this subspecialty. A number of our surgeons have completed fellowships in facial plastic and reconstructive surgery and are members of The American Academy of Facial Plastic and Reconstructive Surgery. Our physicians have authored numerous peer-reviewed articles on rhinoplasty and facial plastic surgery and have been actively involved in teaching this specialty at a major academic medical center in Chicago.
Unlike other disciplines, Otolaryngology-Head & Neck Surgery specialists focus on plastic surgery of the head and neck only from day one of residency training. While other surgeons may begin their residency training in non-plastic general surgery and later specialize in general plastic surgery of other parts of the body, our concern is focused on the form and function of the face exclusively, which allows us to truly subspecialize and offer meticulous care of this region.
Other surgeons may improve the appearance of the nose but at the cost of its function, since they are not well-trained in nasal anatomy and physiology. The end result may be an improved nasal appearance but with impaired nasal breathing. As nasal and sinus specialists specifically, we focus on maintaining the function of the nose (breathing, sense of smell) while improving its appearance.
Our surgeons are extensively trained in:



Rhinoplasty (cosmetic and functional nose surgery)

Injectable Fillers (Juviderm™, Restylane™, Radiesse™, Collagen™, etc.)

Eyebrow and Forehead lifts

Reconstruction of Facial Defects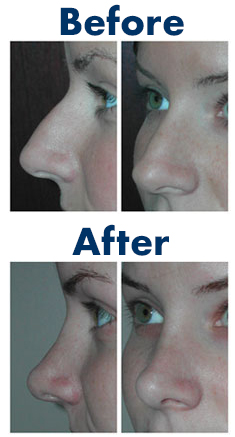 Among our physicians we have proud members of the...